Posted by
DKellis
in
blatant filler
,
pretty pics
, tags:
giri choco
,
life is like a box of chocolates
,
pic lucky star
,
valentine's day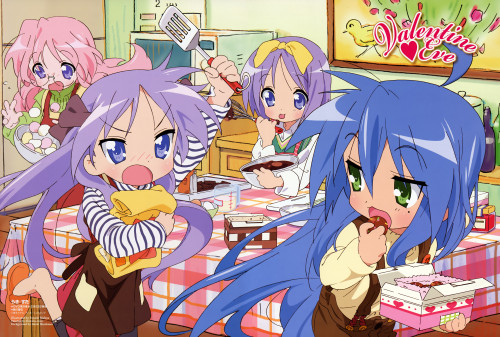 No, I don't have a girlfriend. No, I've never had a girlfriend. No, I'll likely never have a girlfriend. Yes, the balance of probability is that I'll live out the rest of my life alone and unloved, save for the escapist fantasies conjured up by my desperate mind.
That still doesn't mean that I can't wish other people a happy Valentine's Day. You don't have to spend lots of money, although I'm aware that's what retailers are hoping. I'm pretty sure that if it's a love worth having, then whoever it is you're with will be more than happy that you're simply spending time with them.
Meanwhile, I can enjoy the plethora of pics released for this occasion, like on every other. I don't mind that I'm alone on a day meant for couples, and I don't even mind that I dislike chocolate (give me vanilla every time), since it gives me a chance to ogle cute anime girls doing stuff. I'm easily satisfied like that.

8 Comments »