Posted by
DKellis
in
ramblings
,
recettear
, tags:
pun intended
,
the fandom menace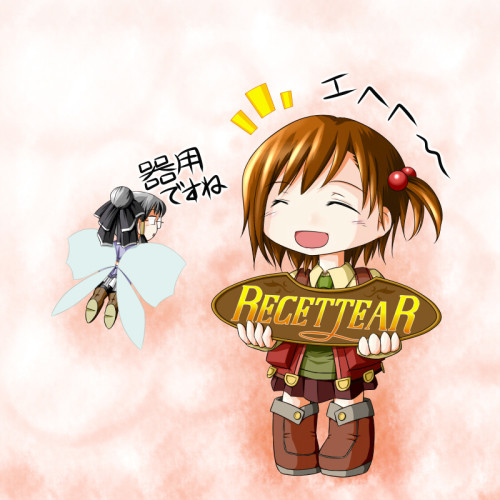 There's something fascinating about watching the Internet pick up on this strange little doujin game from Japan that got released on Steam/Impulse/GamersGate.
Obviously, I love Recettear. It features lots of cute girls, including a cute girl as the player character and another cute fairy girl as her advisor. The art style of the character designs is almost calculated to grab me right there, although where there is I shall leave to your fertile imaginations. The music is happy and cheery, and the tinny retro MIDI nature adds to its charm, because sometimes I just want to listen to something that reminds me of the bright happy games and colours of the games of my youth, ie the SNES era. I'd willingly fork out money for a soundtrack.
The dialogue and much-vaunted translation is amusing, which add points to its favour, but it is not a multiplier per se. I mean, I like it, but it does not loom as large in my estimation of the overall package as the characters and the way they're drawn and the way they act and the catchy music that plays in the background when they do what they do. The gameplay does not take away points, but it's actually not really my main draw towards the game; it's not something which annoys or frustrates me, but it does not add value as such.
Based on the commentary I've seen about this game, I actually like it for the aspects which many others see as a disincentive.
"Too anime", they gripe, and I have to mentally adjust my filters to allow that they do not like anime in the way I do. They do not obsess over anime as I frequently do in my blog postings, and the fact that I even have a blog dedicated to the cute girls in anime sets me apart from these people.
But anime is more of a collection of styles than a specific genre, and further complaints about Recettear include it being "too cutesy". Again, this is contrary to my tastes: I like cutesy. I like sugary sweet, I like high-pitched voices squeaking and gasping and cheerily greeting me "good morning~" and burbling about how they had a wonderful dream about having all the sweets they could eat. I don't cringe from it like many do; I actively seek it out, because I think it's cute, and I like cute.
And to turn this standard rant about liking what I like and how there's no accounting for my tastes into another direction, I found myself wondering why I am different.
Except it's not a good idea to pack all the meaning I intend into such a short statement. What I meant was that yes, I'm free to like what I like… but I'm told this in the same way I might be told that I'm free to not like chocolate (this is true, by the way; I don't like chocolate, although I don't hate it). Or that I don't use Facebook (too many other social networking update sites for me). It sets me apart in a "well, there's no accounting for taste" kind of way, and I wonder why my taste has to be accounted for in the first place.
Who decided, for instance, that "cutesy" was bad? Where comes this social expectation that I am not allowed to squee over cute girls and cute clothes and cute music and other "childishly cute things", just because I happen to be a guy in my late twenties? I am not demanding an answer in the fist-shaking placard-waving manner of the Truly Righteous, but this is not a rhetorical question. I would indeed like to know.
There is this perception that people who like the things I do are… well, less than commendable. Why? What is it about the nature of the things we like that are unacceptable for the greater social (whether Real Life or Internet) milieu? They tell me that moe is killing anime, and I simply do not see it, any more than mecha was killing anime, or shounen fighting series was killing anime, or the shoujo that inspired quite a lot of the moe aesthetic. It's a trend; I happen to like this one, but it too shall pass. Just because there are bad shows cashing in on the trend doesn't mean there weren't bad shows cashing in on other trends. It seems unfair to single out "moe" and "cute" as some sort of disgustingly perverted villain.
Yes, I spend lots of money because of the cute anime girls, although it should more properly be for the cute anime clothes being worn on cute anime girls. This has never struck me as being bad; I spend money on what I like, since it's a drop in the ocean beside the vast fortunes spent collectively on, say, Gundam models, or Apple merchandise, or sports memorabilia.
I get the odd feeling that people try to categorize me based on my interests. I do fit into a category; it just isn't the category people think I'm in. This dissonance is frustrating for me, since it's not like those who categorize me with sweeping generalizations actually care about me and people like me enough to amend their statements.
I am not like what I am accused of being, but neither do I suggest that I am better (or worse) than that. This sudden unspoken and unlisted hierarchy of fandom is mysterious and opaque to me, as are its point and purpose.

3 Comments »