Posted by
DKellis
in
card captor sakura
, tags:
ccs summary project
,
run fujitaka run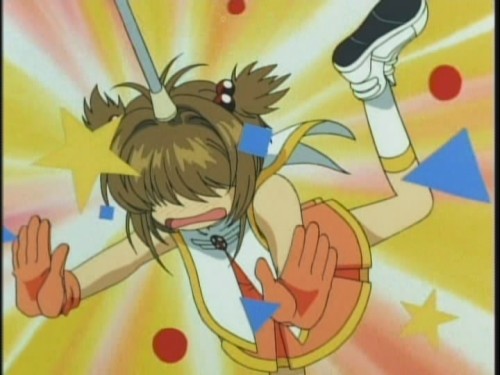 If this episode summary seems somewhat less than entertaining, it's probably because I'm feeling rather under the weather at the moment. It's nothing serious, just a persistent cough and cold, but it does place me in the frame of mind that is not quite the optimal balance of discomfort and clarity of thought which seems to accompany some of my Finest Work (or so I'm told). Apparently my snarkiness is directly proportional to how irritated I am.
Sadly, this cold appears to have stolen a great part of my vocabulary. I may descend into monosyllabic grunts by the time this summary is over.
Episode 10 of Card Captor Sakura, "Sakura and the Sport's Day of Flowers", deals with, unsurprisingly, Sport's Day and flowers. I remember Sport's Days back in high school (equivalent) or elementary school (equivalent) as being rather, well, boring affairs. For some weird reason, the Track and Field events were reduced to simply Track events, and the Field events were done before the actual Sport's Day event. What we random students did, therefore, was sit in the hot sun for several hours, while periodically (every half an hour or so), several of the more athletic members of the student body ran varying distances. And then we clapped. And then we waited some more. Being a decidedly unathletic sort, Sport's Days were pretty much just one in a long line of Things Which Do Not Interest Me.
Apparently Sport's Days in CCS-verse Japan are more interesting. For one thing, we didn't have cheerleaders.
This episode summary is also fairly light on the CHECK!Points, but in this case, it's because there really isn't a lot of CHECK!Pointable stuff in the episode. The art isn't bad (unlike episode 5), but events in the episode just did not result in a great deal of screenshots that would make one melt into a puddle of hanyaa~n. Still, it's not utterly dry either.

2 Comments »