Posted by
DKellis
in
touhou
, tags:
old news is old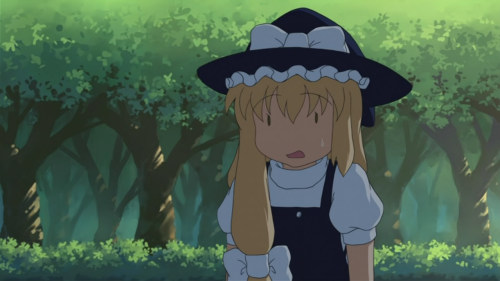 It is probably not a good sign that I immediately pictured Suika Ibuki as being some sort of displaced (and horned) Yui Hirasawa, especially since I'm pretty sure I've encountered Aki Toyosaki's voice in plenty of other anime before. (Particularly Momo Deviluke from To Love-Ru, who looks more like a standard youkai anyway.)
To be fair, Ayumi Fujimura as Aya Shameimaru (\SHAMEIMARU/) sound nothing like what I expected from her roles as Naomi Umegae (Zettai Karen Children) or Misaki Ayuzawa (Kaichou wa Maid-sama). And from the other direction, Mai Nakahara as Reimu Hakurei sounds pretty much like most of her other more memorable roles, possibly due to some sort of bias: ever since Mai Tokiha (Mai-HiME) and Teana Lanster (Magical Girl Lyrical Nanoha StrikerS), I associate her with the calm, long-suffering, serious Girl Next Door roles, and I remember her as such.
Miyuki Sawashiro as Marisa Kirisame did make me happy, of course. And the narrator being Kikuko Inoue is several kinds of amusing.
Still, hearing Sakuya Izayoi voiced by Rie Tanaka made me imagine many strange things about Hayate the Combat Butler's Maria.

1 Comment »