Posted by
DKellis
in
kaitou tenshi twin angels
, tags:
kimi ni angel tornado
,
lovely-tai
,
twin angel kiss omakase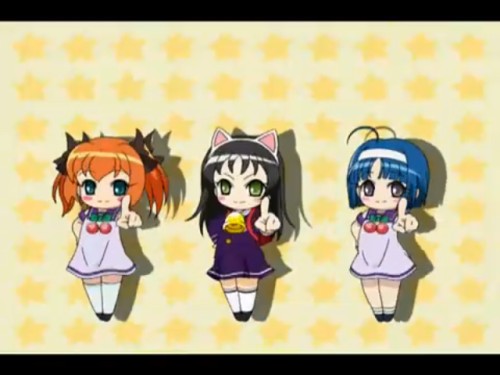 I know I'm pathetically slow to receive news sometimes. Well, more like all the time.
Still, it wasn't until I was looking through random Youtube videos that I heard about the second set of anime episodes (webcast, if I read it correctly) for Kaitou Tenshi Twin Angels. I would watch it if only for Yukari Tamura and Mamiko Noto reprising their roles as Haruka Minazuki and Aoi Kannazuki respectively, but this adds in a new character in the form of eleven-year old Kurumi Hazuki, voiced by the instantly-recognizable Rie Kugimiya.
No points for guessing Kurumi's likely personality.
Further big names for new characters are present in the form of Yui Horie and Ryoka Yuzuki as rival duo Twin Phantom, sisters Tesla (or whatever the katakana TE-SU-RA stands for) and Nine Violet respectively. Apparently the teacher Joshi Saijou (Yuu Asakawa) is associated with them somehow? I forget. In any case, the big baddie this time is Godot Black Trader, voiced by Rikiya Koyama.
I suppose my interest in this show lies entirely because it is not groundbreaking. It is safe, familiar, and has lots of cute girls. I am, truth be told, kind of tired of deconstructions and twists and parodies. I want to go back to the roots of it all. I want to have fun. I want my happy ending.
Preferably without being insulted for wanting them.
The second opening song is basically the first opening song plus about thirty seconds of extra bits in front. The actual animation is different, though; more cute chibis is always welcome.

Comments Off