Posted by
DKellis
in
anime
,
blatant filler
, tags:
sleeping with hinako
,
training with hinako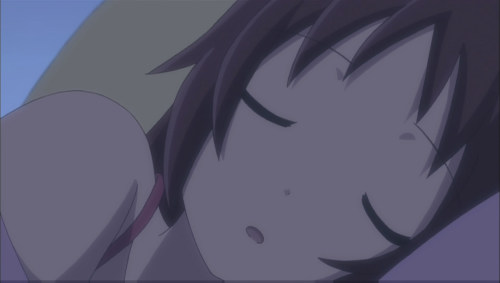 I've not watched Sleeping With Hinako as such, although I've glanced at a few bits of it, just to see what it's about. I think it's supposed to be some sort of aid to sleeping? Or something. Watching Hinako sleeping might help cure insomnia, or some such. I don't know.
I have watched Training With Hinako, which is rather more obvious in purpose: Hinako exhorts the viewer to get off their computer chair and join in some exercises with her. It's an exercise video, made sweeter with anime style and the sort of camera angles that make moral guardians keel over in apoplexy, which I suppose defeats the purpose of being healthy.
Those who know me in Real Life also know that I'm… well, unfit. Unfit enough to have to go to the Remedial Training the Singapore Army thoughtfully provides, which does explain why I'm usually too tired to blog about anything of substance. (And my muscles ache.) And yet I've been wondering: if I used Training With Hinako as an actual exercise video, ignoring the whole ecchi angles thing (upskirt and down-cleavage), would this be seen as appropriate?
I'm not even considering how effective it is; when one leads a sedentary lifestyle, any exercise is usually good (assuming proper warmup and stretching, so you don't hurt yourself). But the idea of doing push-ups while the view on the screen is down Hinako's shirt makes it seem a little like I'm missing the point.
I wonder if falling asleep to Sleeping With Hinako falls along the same point-missing lines.