Posted by
DKellis
in
hidamari sketch
, tags:
oh god yoshinoya sensei is hot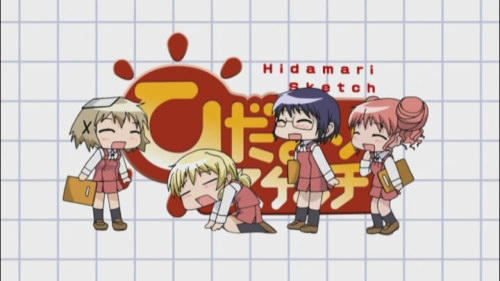 Since my fellow AnimeNauts co-blogger (who is, I admit, making the vast majority of the posts there, because he is some sort of blog-posting machine) was ordering stuff from Amazon (if you're wondering: the Blu-rays of Ghost In The Shell 2.0 and The Sky Crawlers, among other things; on a completely unrelated note, he does not own a Blu-ray player yet), I piggybacked Hidamari Sketch season 1, licenced by… Sentai Filmworks, it says on the case, and distributed by Section23 Films. Never heard of them, to be honest.
See, I do buy anime I like.
The DVD came in a case the same size and shape as a single DVD, except this time containing two DVDs, with all twelve episodes and two specials. Extra features are the usual DVD credits which I assume nobody watches, the clean opening and ending animations, various Also Available From The Same Distributors, and a downright bizarre ad for The Anime Network, which I will leave to people actually inside the US to bother testing out. Curse you, region-locks.
Subs-only (using the same yellow font that's been on every R1 anime DVD I've watched recently; seriously, is it a standard or something?), and the picture quality looks a little… low. I'm not sure how much of it is due to the originals, and how much is due to having to fit fourteen episodes onto two DVDs.
Well, at least it's widescreen.