Posted by
DKellis
in
off-topic
,
ramblings
, tags:
fandom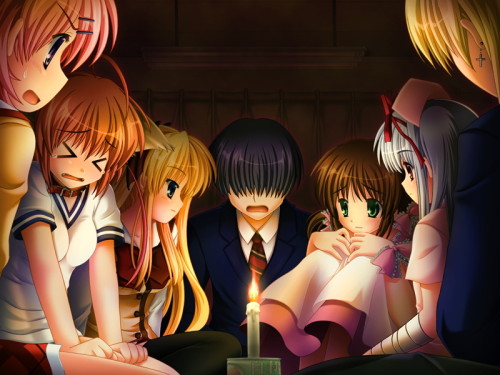 Through no real deliberate intent on my part, I seem to have drifted away from what I suppose could be broadly called "the anime blogging community". I suppose I'm technically still a part of this "community", in that I am blogging anime, and thus I can be considered to be part of the anime blogging community by default. And yet, I don't actually participate in any of the activities that would make me a Part Of The Community beyond that which is conferred merely by existing.
I suspect that a part of it is due to Real Life. The pace has either stepped up, or my brain has stepped down; both possibilities are equally plausible and disturbing. Apart from the obvious side effect of leaving me with less time to enjoy my hobbies, anime watching and blogging being among them, it does mean that I cannot quite eke out the mental fortitude to engage in the spirited volleys that passes for conversation among fandom.
Very few blogs, this one included sometimes, actually want to engage in discussion. Most of the time, it's just a venue to air our viewpoints, however we see fit to do so. In many occasions I've tried to be patient and rational in a debate with someone who is clearly not interested in dialogue, a fact which is borne out when the other party says in effect "actually I don't care what you or anyone else says, I'm just venting". I have no inherent objections against venting if it is made clear that the rant is not a topic to be discussed in depth. Otherwise, the failure in communication just wastes time.
This gets even worse when it comes to the statement of opinions. One thing I learned to do is to make sure that when it comes to touchy topics, it is abundantly clear which parts of what I am saying is fact, and which parts are opinion. The rule of thumb is that if it's not firm enough to be printed as a reputable source (ie "go to press"), then it's opinion. It's a little like that quote about journalists calling murderers "the alleged murderer" and the King of England "the alleged King of England" to avoid defamation suits.
What it all boils down to is that I have the option of Participating In The Anime Blogging Community by sparring with the people involved, or staying out of it all and spending my time watching anime instead. I simply do not have the Copious Free Time or emotional willpower to engage in both activities at once on a regular basis. It's difficult enough to come to terms with my own unpopular opinions, such as with the run of The Melancholy of Haruhi Suzumiya's "Endless Eight" (summary: I really liked it), but when I see another post bashing it (fine) with incorrect language (not fine), I have to hold my figurative tongue rather than get into an argument I know I cannot finish.
So it goes.