Posted by
DKellis
in
k-on
,
ramblings
, tags:
talking about myself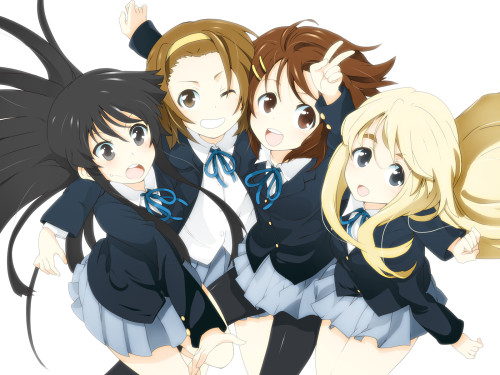 Looking at the K-On girls' popularity as seen from blog posts, it appears that Mio's lead is still unchallenged, but there has been a growing contingent of fellow Mugi fans. Ritsu has a few die-hard supporters, albeit some who feel it necessary to proclaim Ritsu's superiority by flinging insults at the other girls for some reason. Yui, however, gets a lot of flak.
This, to me, is kind of odd.
I'm not a stranger to not liking a character, since it's quite difficult to love each and every single character in fiction, but the amount of active dislike I've seen makes me suspect that something else is in play. Yui, in herself, is not that offensive, at least in my view.
The most common reason I've heard is that she seems not quite right in the head. The word often used is "retarded", which means a great many things on the Internet, ranging from the broad medical definitions of developmental disabilities, to the perjorative sense that may or may not indicate an actual mental disorder.
Let's have a look at Yui's most prominent personality traits:
Easily distracted.
Usually has problems focusing on things.
When able to focus, concentrates on the subject nearly to the exclusion of all else. (May not confer hypercompetence.)
Forgets about everything other than what is focused on, thus requiring frequent relearning.
Starts high-maintenance projects on impulse that may or may not reach conclusion.
Sweet tooth.
Late sleeper.
Just taking these traits, it's a pretty accurate description of myself.
Oddly, this is why I'm not that interested in Yui. Yes, it amuses me to see my own foibles writ large on the screen, especially when performed by a cute anime girl, but since I deal with them every day, it's too familiar. I do get distracted in bizarre ways: I can space out in the middle of a conversation just in time to miss out on the middle two items out of a list of five. I've stopped in my tracks before just to observe the way a raindrop falls. And when I really wanted to, I taught myself Java in two weeks (with several applets to show for it), before being distracted by something else (the guitar, if you were wondering) and forgetting it all again.
The sweet tooth and late sleeper bits are fairly common in others, so it's not that significant. If there's any character trait I can call my own (as opposed to sharing with Yui), I'd say that I panic easily in pressure situations, so even though I may theoretically know everything about how to deal with a crisis, when the time comes I blank out and stare at nothing in particular. It is not such a large leap of imagination to picture Yui with the same problem.
Considering that I've managed to survive this far without being committed to a mental institution, I'd say that these traits are not especially debilitating. In fact, Yui does have the advantage of being hypercompetent when she focuses on something, possibly due to natural talent or something. Obviously I cannot claim to this myself. Seeing as Yui has garnered such hate despite being better than I am, I have to say that I've been examining my own interactions with others quite closely, since I must be annoying my friends to no end.
Now, let's take my favourite K-On character, Tsumugi. Mugi-chan is intelligent, polite, confident, talented, graceful, and delightfully enthusiastic about experiencing everything life as a Normal High School Student has to offer. (Also, she's very very cute.) If this were any other bishoujo anime, she'd be the school idol. Since she's next to nothing like myself but still full of all these positive traits, I can sort of place her as the goal of a change in personality for the better, and learn by observation. Failing that, I'd be happy to simply be the invisible observer in her group of friends.
Mio and Ritsu are just kind of there. I find Mio amusing but strangely not as compelling as Mugi, and I'm not really a fan of the hyperactive prankster type that Ritsu is based on. But then I've mentioned all of this already.
From what I've heard over the years, I should either be loving Yui for being so close to myself, or hating her for reminding me of my own bad parts. But she's just so familiar that it's like looking into a mirror or some such; there may be a brief period of introspection and self-examination, but after a while it's not very interesting.