Posted by
DKellis
in
anime
,
ramblings
, tags:
as voiced by rie kugimiya
,
i should make this a series
,
tsundere
I realize that this anime blog is, as I always mention, intended for moe, and all it entails. It's not so much a genre as a style, an additional feature that can stand on its own (regardless of whether it should), but can also be added to another show as akin to a condiment. It is, in the popular definition, a set of traits and personality types which converge, however eventually, to a common point.
Even so, there is one particular form of moe which has never quite grabbed me in the same way as, say, glasses or silence. Strangely enough, at least in the Anglophone anime fandom, it appears to be the most popular, or rather the one with the most vocal contingent. It is a personality type that relies on being abusive, insulting, and unpleasant towards their target audience, in the hopes of some sort of payoff at the end. This is, of course, the tsundere.
This is one of those words which has no real English equivalent. It is difficult to explain with a definition, but somewhat easier to provide examples of. The vague idea has been around for somewhat longer than anime itself, but only reached its current form, complete with a Platonic ideal and a parodifiable stereotype, quite recently. TVTropes, as usual, has an article.
This post will be rather different from my previous posts on the aspects of moe, in that I don't actually understand this particular variety. (This must be how non-moe fans feel about us.) So I'll be relying on other people to explain why they like tsundere characters; in this case, a friend of mine who would like to go on the record as insisting that he is not speaking for all of the tsundere fandom, but merely his own personal tastes.
Since I am incredibly biased, I get to go first.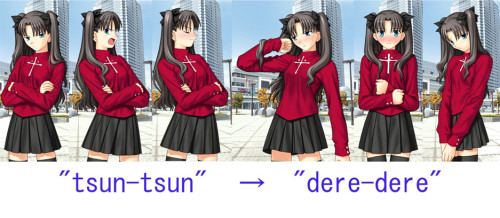 My distaste with tsundere characters can be boiled down into a dislike of the tsun aspect. There's a lot of details and caveats, which I'll get into in a bit, but at its core, I simply cannot see the point in putting up with all that abuse just for the payoff at the end, especially if there are other choices, so to speak. When the girl is tsun, she pushes you away, right into the arms of someone more willing. Efficiency dictates a change of tastes.
However, matters of taste are rarely efficient, nor should they be. (It would be nice if they were, but it's not mandatory.) "Liking" a character is more complicated than that: there's liking a character enough to want to be friends with them, if one could self-insert into that particular continuity (the stuff of fanfics), and there's liking a character just to watch them in action.
Take one character I actually like, in the "watching in action" way, Teana Lanster from Mahou Shoujo Lyrical Nanoha StrikerS. She may or may not be intended as a tsundere character, especially with the complete lack of a male love interest for most of the characters, but fanworks have depicted her as tsundere enough that I can safely assume that she has the behaviour of a tsundere. Now, I like her because her interactions with Subaru have lots of potential for comedy, if nothing else, and she's a great Straight Man character in the midst of all the LOVE AND PEACE around her. However, I suspect that any new character, self-insert or otherwise, would have to get past her "why are you bothering me?" spiky exterior before joining in the fun. It's just not worth the hassle.
And then there's a tsundere character I don't like, Louise Insert Long Name Here Valliere from Zero no Tsukaima. She alternates between beating up Saitou and becoming all clingy and possessive, and I don't know what Saitou sees in her. There could be something about Inner Vulnerability and such, but Henrietta has the same possibilities in that direction. Just about every significant female character in the show is attracted to Saitou, but he stays with the one who constantly insults and belittles him.
Tangentially, in the anime with a long name but which I remember as Megadere, the tsundere character in question is always dere to the male lead, and always tsun to everyone else. Perhaps not surprisingly, I also like watching her in action.
Now, I understand that there could be a difference between A Character With Tsundere Traits and A Tsundere Character; it's the difference in whether the character is defined by their tsundere-ness. This is where I suspect taste is the dividing factor: a character defined entirely by her Shy Meganekko-ness I can still enjoy as what amounts to eye candy, for the part of the brain concerned with observing moe. A "pure" tsundere, in contrast, is just irritating.
I'm not closing my mind the the possibility of liking tsundere characters; if I had, I wouldn't have named Teana as my favourite MSLN character overall. But more or less the defining trait of the tsundere is that, to the viewpoint character at least, they make themselves hard to like.
Let's have a look at the other side of the issue, from the aforementioned friend of mine.
First, he would like to emphasize again (and I agree with him) that this is all personal taste. And when it comes down to it, he doesn't so much "like tsundere characters" as much as like assertive female characters. It's just that the tsundere character trait often accompanies an assertive character, possibly for ease of audience identification.
For a tsundere, the tsun is the assertive part, but the dere reminds us that the character is still "girly". The juxtaposition of these very different personality types engages a frisson of moe in the brain. It also fits with the idea that attractive characters have a hidden side to them, separate from their public personas: maybe the refined ojou-sama is an anime fan (Nogizaka Haruka no Himitsu), or the shy meganekko loves cosplay and gaming (Love and Collage), or the silent standoffish girl is a sexual deviant (plenty of H-mangas I will deny knowledge of if confronted). I hesitate to call it an unexpected side, since in most cases we've seen stuff like it before, so it's not like we're surprised. If a character lacks this hidden side, rest assured that fandom will fill in the gaps.
It is, admittedly, a thin line to tread. A good rule of thumb is that the "hidden" side should be the attractive aspect, or at least not bad. For example, Ami Kawashima from Toradora has yet to fully redeem herself in my eyes from her initial behaviour: sweet and airheaded hiding cold and manipulative. Even so, it's only a rule of thumb, and exceptions abound on a case-by-case basis.
A tsundere apparently requires twin ponytails for her hairstyle. Thigh-highs are useful but optional.
Quoting from TVTropes:
What makes a Tsundere attractive is her determined attitude to do everything well; even if it's a cover for deep-seated insecurities, it's better than her wangsting about them. Furthermore, she's much less likely to suffer from Chickification as her less-than-doting personality facet is her major appeal. For Type A, it's assumed that she only acts that way to hide her good heart or deal with romantic attraction. For Type B, her hidden tsuntsun side shows that she's more than just the sweet girl.
"Type A" here means a "normal" outward personality of tsun, like the typical view of a tsundere. "Type B" means a normally kind and sweet girl who turns out to have a short temper or some such: Ibuki Ikaruga from Asu no Yoichi comes to mind, although I'm sure various heroines from Rumiko Takahashi's works would also fit (Akane Tendou may or may not fit the "kind and sweet" clause).
Another option is that since guys are, generally speaking, the "ones with power", it provides a rush when a girl asserts her own power: I'm not entirely sure if it's adrenaline or hormonal. The competitive feeling might turn into attraction, after a suspiciously short amount of time.
Also, girls apparently look hot when they're angry. Personally I much prefer girls looking happy (and in fact think that they look their best at those times), but it's all taste.
Something he sees as a possibility, even if I'm not sure if he agrees with it himself, is that when the tsun aspect finally goes away and the dere comes out, it could be seen as a conquest. The taming of the shrew, perhaps.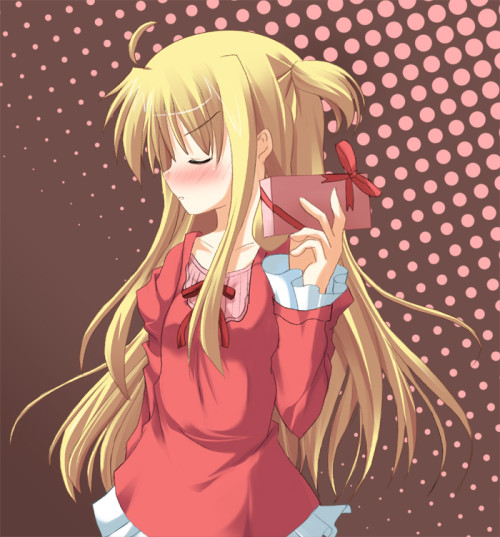 All in all, de gustibus non est disputandum: there's no arguing with taste. I don't like the tsundere archetype, and this is the sort of dislike which is more potent than a simple lack of interest, as with the sporty tomboy type and the haughty ojou-sama. And yet I understand and recognize that it is a valid, extremely popular moe archetype, and so I have to try to grok it. Maybe understanding will result in a change of tastes, and I will be tsundere about tsunderes.
So, why do you like tsundere characters?