Posted by
DKellis
in
nursery rhyme
, tags:
i can feel the universe
,
renai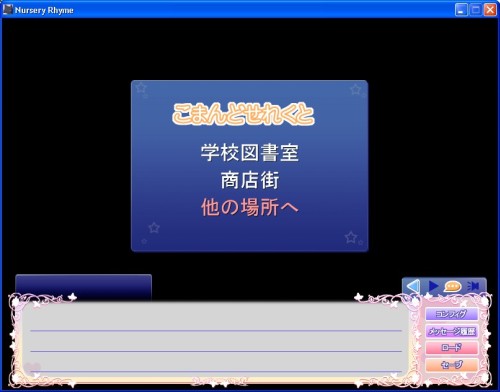 Since I'm medicated and not in the mood for anything more strenuous than vegetation in front of cute anime girls, this seems like a good way to fulfil the post quota.
Last time, we decided to continue on the Rin route. Let's see where it leads.
This is the shopping district, on the way home from school.
Whereupon Shizuma meets Rin, who seems a bit surprised to see him. Well, not so much "surprised" as "terrified".
Shizuma asks Rin what she's doing.
Rin: As you can see, I'm shopping.
Uh, no, actually, I can't see, due to the usual problems with limited visual references. Considering Shizuma asked the question as well, I'm guessing he can't see it either.
Shizuma: In those clothes?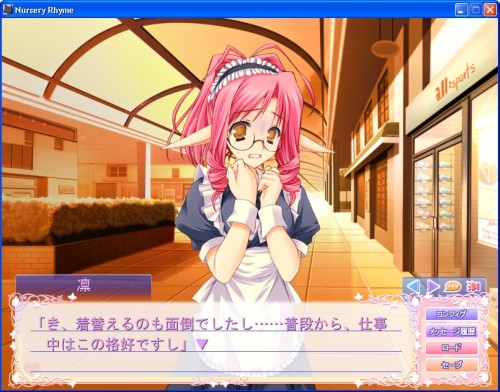 Rin claims that it's too troublesome to change out of her working clothes, so she's going shopping in a frilly maid/waitress uniform.
Tangentially, I've never really been able to differentiate between the Maid Uniform and the Waitress Uniform, especially in the grey shades when one can pass for the other. I'm also not quite sure how common the whole "maid uniform" thing is outside of anime, so I don't know if it's a common sight to see someone in a maid uniform in the supermarket, or if it'll be seen as some sort of cosplay.
Shizuma also comments that it's kind of a weird outfit to wear, and brings to mind some sort of punishment game (lit. "batsu GEEMU"). Lose a bet, go around in a maid outfit. Presumably this applies to only female characters, as the alternative will be a punishment game for everyone else.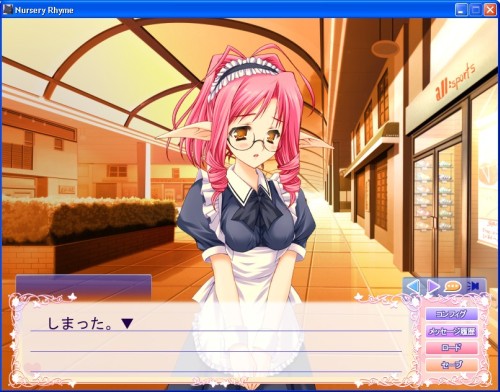 Rin looks sad at this. Shizuma thinks: "oh, crap."
He tries to cheer up the atmosphere with a suggestion:
Something to do with the store (top), or just go back home (bottom). Since we're doing the Rin route anyway, let's pick the top choice.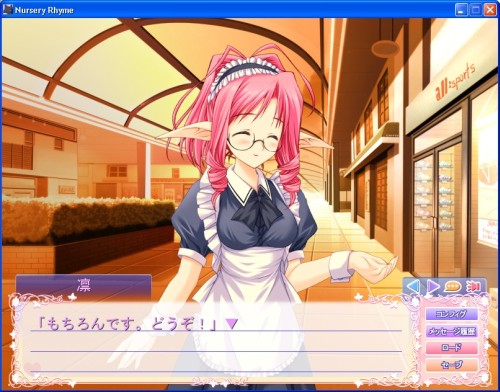 Rin is happy about this. I'd check this out in more depth, but I'm groggy from medication and this appears to be the correct route anyway.
We end up in Rin's cake shop. So far so good.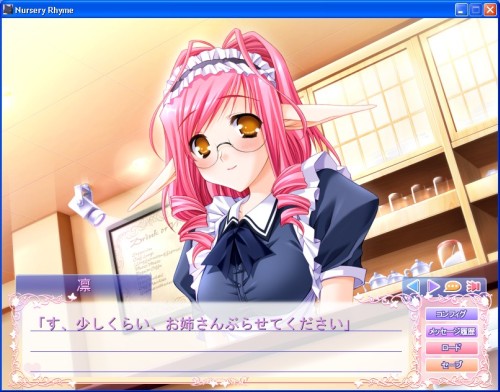 Rin offers Shizuma something for his trouble, and despite Shizuma's protests, gives him a cup of coffee ("if it's just a cup of coffee, then it's something I can do"). She also pulls the Oneesan (big sister) card.
Which Shizuma promptly calls her out on.
Don't ask me for a translation, since my brain isn't working right now. I might come back later to redo this.
Shizuma asks Rin if she's in any university clubs. Rin says that her part-time job takes up too much of her time. Even so, she enjoys the work, so it's not a problem.
Shizuma comments that despite Rin's desire to become a private school teacher, she seems more suited to being a "home" teacher. Home economics? Home tuition? I dunno.
Rin is not entirely happy with this comment, and begins listing why she's not fit to become a teacher. Again.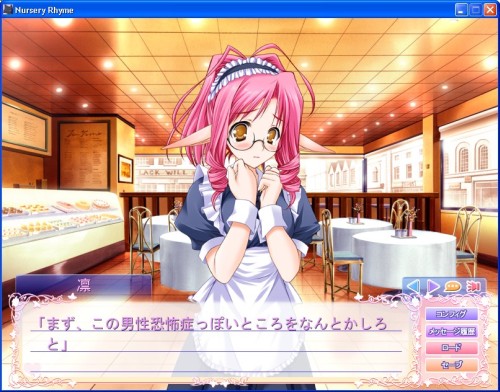 I screenshot this because at least Rin's aware that her androphobia, however mild, is a problem. (No, I'm not sexist; gynophobia would also be just as problematic, since it's not a good idea to be scared of half the world's population.) Shizuma also notes that for some reason, the cafe has a lot more women. Then he goes into gender roles between private school teachers and home whatever teachers.
I haven't a clue.
Back home now, the next day (or possibly a few days after). While we stare at the background image of the bathroom entrance, Shizuma muses that there are already hints of green among the cherry blossom trees around the school, which means that it's going to be summer soon. (Well, that was quick.) He ponders how life at the house seems to have settled down into a routine.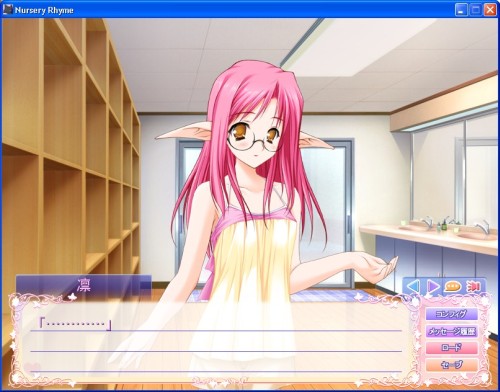 A sleepy Rin appears.
And then she leaves.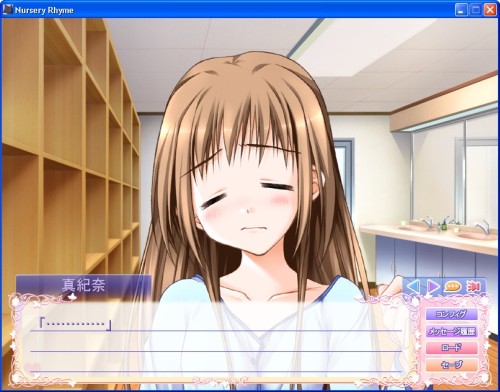 Then a sleepy Makina appears.
She promptly begins disrobing in preparation to head into the bath. Shizuma is understandably nonplussed.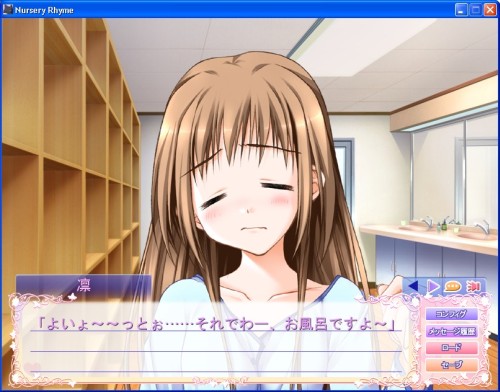 Rin also intends to join in, it appears. Shizuma escapes, and revises his earlier assessment of the routine.
I think this sequence serves as comic relief more than anything, as well as an illustration of how even random daily life has its own surprises.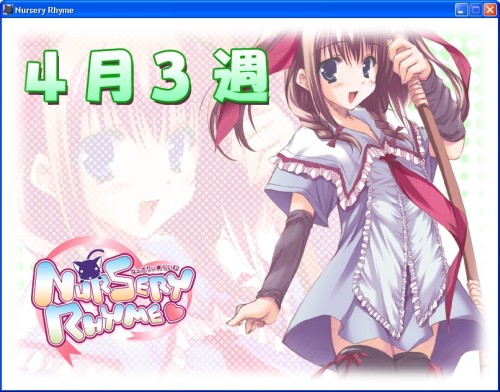 April, week 3. I like the artwork here, even if it's randomly chosen.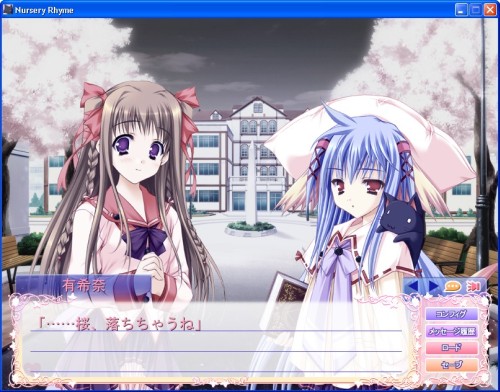 A literally grey day. Yukina mentions how the cherry blossoms are falling from the trees, and Krile agrees. Makina wishes for it to rain sooner, for some reason to do with the ground. Training purposes? I dunno. A few lines about the Sofiroth (or whatever the sport is called) ball and its quirks, and then we're back in the classroom, where the sound of rain is clearly audible.
All this while, a quiet, melancholic background tune is playing. It actually makes the scenes appropriately pensive.
Yukina: Ah, it's really coming down now.
Shizuma: So it is.
When you've run out of Witty Renai Banter, I suppose the next best thing is talking about the weather.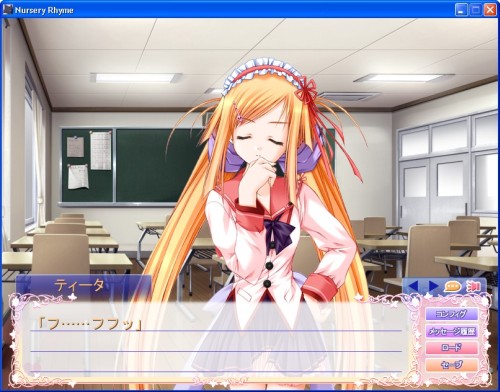 Tita seems suspiciously happy.
The… end-of-month tests? Or some sort of tests, anyway, are coming up, and Tita challenges Yukina once again. I can't exactly screenshot this, but the screen actually flashes white as thunder rolls ominously, right on cue. Serious Business, indeed.
Yukina gamely accepts, and asks if Shizuma wants to join in as well. Tita snidely asks what the point of involving him would be, and Yukina just goes "it'll be more fun", which I've noticed turns up a lot in anime as a stock excuse for doing bizarre things. In any case, Tita easily accepts, confident that Shizuma will be a non-factor in the challenge.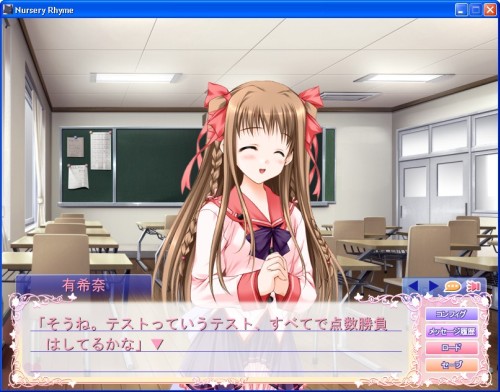 Yukina mentions that Tita is just as competitive when it comes to anything with points. Fuji wanders over, and notes that Yukina and Tita's average scores are at least ninety. The implication is that Shizuma has no chance to survive make his time.
Just so you know, that melancholic music is still playing. A bit of mood dissonance here, possibly preluding some sort of Serious Revelations.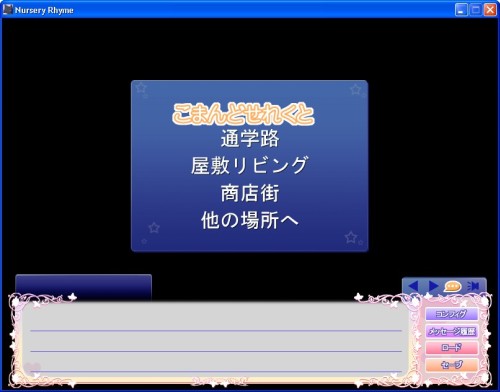 Make choice!
- Road to school (well, from school) at night, which leads us to an encounter with Mary and Makina.
- Living room (at home the next day), featuring a gardening Yukina.
- Shopping district, where Tita is not pleased to see Shizuma.
- Others:
- School Lobby, proceeding to the library and Krile.
- Open Air Bath, where Shizuma relaxes for a while before going home and meeting Rin.
- Back to previous options.
As usual, I'll want to go the Rin route, since we've come this far following it. (Don't worry, I'll explore the other routes after we finish the game.) In fact, chances are after this playthrough, I can just refer to the posts for the game as a shortcut on which choices to pick.