Posted by
DKellis
in
nanoha gamers
, tags:
comic
,
descent into the gutter
,
nanoha strikers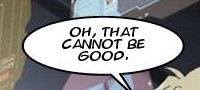 Apparently I've been mentioned on 4chan's /u/. (Not linking, partly because by the time this is posted the thread would be long gone, but mostly because it's definitely not worksafe.)
"So epic, it hurts. Best fan anime-comic I've ever seen."
Thank you, Anonymous.
EDIT: Alternate ending, just for /u/: