Posted by
DKellis
in
nanoha gamers
, tags:
comic
,
insert coin to continue
,
nanoha strikers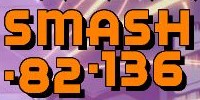 I first started using Comic Book Creator when City of Heroes ran a contest involving it as a promotion of sorts. I didn't enter, although I did mess around with it for a while.
Recently I decided to spring for CBC2, in the hopes that it would be better than the somewhat braindead lack-of-functionality of the first CBC. If anything, though, CBC2 appears to have fewer options, or at least options that I care about, like panel layout templates. So if you're wondering why all the comics seem to have the same few panel arrangements, this is why.