Posted by
DKellis
in
ramblings
, tags:
fanfiction
,
pic haruhi
,
random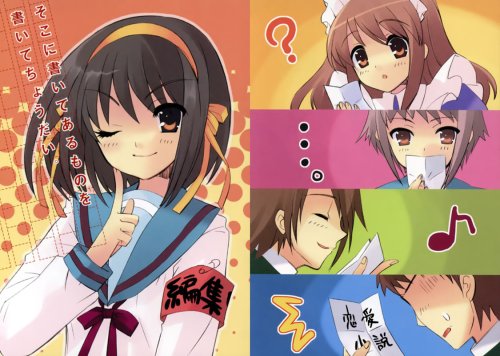 Fanfiction is one of those things which are forevermore shrouded in controversy, at least among fandoms. The arguments for and against are endless, and I don't really want to have to deal with them right now, so we'll just all agree to disagree, or perhaps agree to agree, as the case may be. I'm very agreeable at the moment, largely because agreeing with stuff might make them go away and stop bothering my and my headache.
However, I've noticed that there's at least a significant contingent of people for whom fanfiction is not the Spawn of Slaanesh, and yet it holds no particular attraction of any sort. One of the most common refrains heard is: "I haven't read any fanfics I liked."
Cue the inevitable deluge of fanfic recommendations, of which this post is one. So it goes.
Trying to recommend fanfics to another person is extremely difficult, if only because due to its nature as entertainment, it is subject to personal opinions and tastes, which are, well, personal. Just because I like the idea of, say, crossing over Card Captor Sakura and Star Wars doesn't mean that anyone else would, and it is in these tiny details which readers are converted or cast away.
The most obvious question when asked for a fanfic rec is: which fandom? Fanfiction tends to assume that the reader already knows the original story; there is little point in recapping the canon plot in an As You Know chunk of text, since the point of fanfic is to address that which the canon left unattended, whether it is an alternate interpretation, or some aspect of the setting which the writers unaccountably very accountably left as an exercise for the viewers. This becomes rather more complex when it comes to crossovers, which have to account for two or more series at once, and present them in a way that does not leave anyone who has not seen all the series in question hopelessly lost.
This, along with trying to fix what the original creators broke, I am of the firm belief that anyone who says writing fanfiction is easier than writing original stories is very much mistaken.
Once we have fandoms settled, now we shall come to subject matter. Angst, comedy, spam, dark, WAFF, crossover, fusion, drabble, AU, OC… the terms are endless, and endlessly debated. What, exactly, does "AU" imply? Is it a completely transplanted setting with the main characters intact? Or do we keep the setting, but change the characters? One person may have a Definitive Answer, and another might have another Answer just as Definitive, but mutually exclusive with the first. The perils of fandom definitions are many.
And that's not even going into what might be the major topic of possibly the majority of fanfics. Het, yaoi, yuri, gen? Which characters? How explicit are we talking about? Just chatting, or is there some serious boinking to be had?
After that, I cannot quite blame the fans timidly dipping their toes into the vast ocean of fanfiction in being intimidated. This is worse than calculus; I know this because I find fanfic conventions puzzling, but calculus is easy.
Now that I've inadvertantly managed to scare away most of my readership, I should probably get on with the fanfic recs.
I should note that this is, by no means whatsoever, a complete list of fanfics which I like. Rather, this is a very short list of fanfics which I can think of at the moment, and which I can find a source. My list of fanfic bookmarks were lost in one of the drastic computer crashes which plague me like unreliable clockwork, and so I operate mostly on faulty memory. I'm fairly sure that right after I post this, I'll remember some more.
Most of these are also not pairing-centric. I'm not really interested in pairings as such; I have nothing against the concept, but it's just a factor which is placed into the story, like an extra ingredient in a dish. It could be significant, but I'm more concerned with the whole thing. If that makes any sense.
Let's see if I still remember my HTML. I think UL and LI are still XHTML-compliant rather than deprecated? I forget, especially since I'm not that familiar with CSS. Ah well.
In no particular order:
Yes, I know that there are no Card Captor Sakura or Melancholy of Haruhi Suzumiya fanfics in that list. Like I said, I lost my bookmarks (and so have no CCS stories to share), and I haven't seriously had a look at the genfic (ie non-pairing) MoHS fandom yet.
So, which fanfics do you have to recommend? I'm always open for new reading material. (Provided it's worksafe, of course.)