Posted by
DKellis
in
ramblings
, tags:
fanfiction
,
pic haruhi
,
random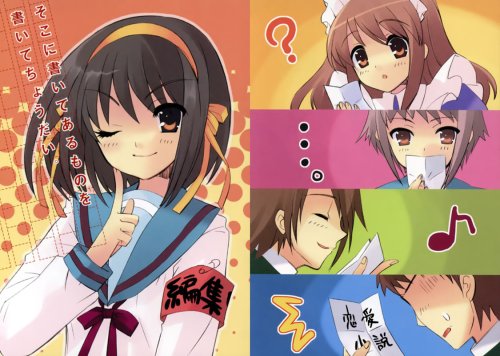 Fanfiction is one of those things which are forevermore shrouded in controversy, at least among fandoms. The arguments for and against are endless, and I don't really want to have to deal with them right now, so we'll just all agree to disagree, or perhaps agree to agree, as the case may be. I'm very agreeable at the moment, largely because agreeing with stuff might make them go away and stop bothering my and my headache.
However, I've noticed that there's at least a significant contingent of people for whom fanfiction is not the Spawn of Slaanesh, and yet it holds no particular attraction of any sort. One of the most common refrains heard is: "I haven't read any fanfics I liked."
Cue the inevitable deluge of fanfic recommendations, of which this post is one. So it goes.
Trying to recommend fanfics to another person is extremely difficult, if only because due to its nature as entertainment, it is subject to personal opinions and tastes, which are, well, personal. Just because I like the idea of, say, crossing over Card Captor Sakura and Star Wars doesn't mean that anyone else would, and it is in these tiny details which readers are converted or cast away.

6 Comments »