Posted by
DKellis
in
ramblings
, tags:
anime openings
,
anime songs
,
tags are leaving me in despair
,
talking about other people's posts
,
youtube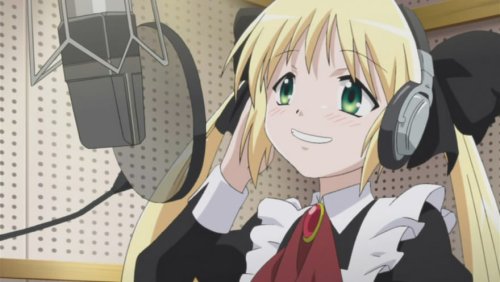 One reason I haven't been as enthusiastic about updating my blog recently is because I have once again been bitten by the fanfiction bug, which bears an uncanny resemblance to the Common Plot Bunny, thus creating a sort of horrific entomological lagomorph, otherwise known as Bugs Bunny.
Bear with me, I'll get to the point soon enough.
In the long, rambling thread in the Mahou Shoujo Lyrical Nanoha subforum about Original Characters, which has long since mutated into something only barely recognizable as a sounding board for said fanfic original characters set in the universe and is now mostly a Random Discussion area, there were three Youtube videos posted, which were supposed to be the 2ch-voted Best 300 Anime Songs (OP, ED, Insert, Image, whatever) of all time. (If you're wondering, number one is "Cruel Angel's Thesis", the OP from Neon Genesis Evangelion, at over 1600 votes. I'll get to this later.) If you have a Nico Nico Douga account, the videos are here, here, and here.
Somewhat coincidentally, I came across a post by 0rion over at Epic Win which discusses something very relevant, which is: what makes a good anime OP?
Now, I'll take a cue from him and narrow the focus down to OPs only, since if we open it up to EDs and Inserts and Image Songs and such, my brain will explode. Even then, I'm nowhere near an expert in something like this, since not only am I relatively ignorant when it comes to the huge amount of anime that has ever been released, but I also have a very bad memory, and I'm sure that after I post this, someone will comment with an example which makes me go "WHY DIDN'T I THINK OF THAT" and then I have to go on a training death course to redeem myself.

10 Comments »