Posted by
DKellis
in
mahou shoujo lyrical nanoha strikers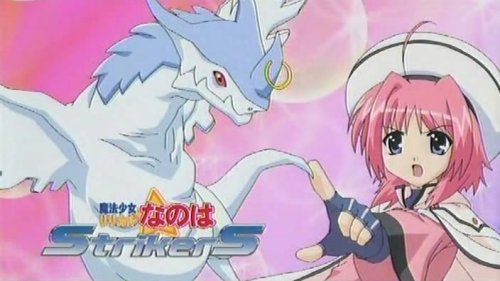 No, really. Five times.
Episode 5 of Mahou Shoujo Lyrical Nanoha StrikerS gives us the long-awaited transformation sequences, and with the sole exception of Elio, they all proceed in much the same manner: the characters float around and pose as their clothes disappear layer by layer, although honesty compels me to mention that no actual details are shown; I believe the term is "mannequin-nude". Then new clothes, ie their Barrier Jackets, form around their bodies, and they finish off with a dramatic pose against a dramatic background. (Elio's transformation sequence is almost as the others', except that he does not go nude. Any comment I can conceivably make to that will likely be considered inappropriate, lewd, or inappropriate and lewd.)
I will not be posting very many screencaps of the transformation sequences. In fact, I will not be posting very many screencaps at all. The reason for this is the unfortunate dearth of good-quality sources currently available; I feel that it will be an injustice towards the very nature of the fanservice of this episode, which would demand nothing less than the absolute best for the MSLN fan.
And fanservice it is: the Newbies are mobilized to action as the train carrying the mysteriously powerful Relic is attacked by the AMF Gadgets. Apart from the much-mentioned transformation sequences, we also get to see the Newbies being surprised by the sheer power of their new Devices, even with the limiters placed on them. The Newbies get used to their new Devices, Nanoha and Fate run interference for the Gadget air force, and we get a fairly blatant progression towards a Caro/Elio pairing for the series. And to top it all off, we get some backstory about Caro's recent past, and a Suspicious Scientist sort who seems to be observing the battle for his own ends.
I suppose this is what they call a Highlight Episode.

1 Comment »