Posted by
DKellis
in
first impressions
,
nursery rhyme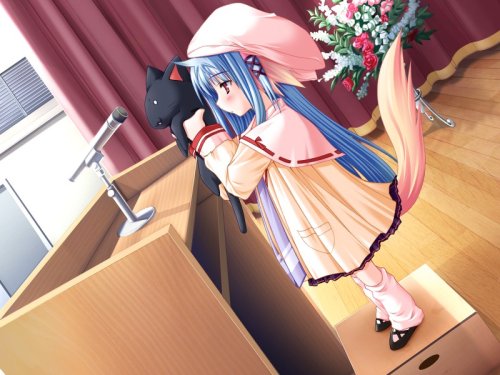 For an anime blog, I don't really review a lot of anime.
So once again I've obtained another eroge, this time Nursery Rhyme by Lump of Sugar. I first heard about this game from the now-infamous Code Geass parody, and felt that the opening theme was the sort of indicator of exactly the sort of moe sugary-sweet romantic comedy story I have a weakness for. You know, bright colours, happy school days, predictable and yet amusing situations, one nice guy being dragged around by lots of cute girls, the like. I suppose what I'm really looking for is a cute love story without the angst, but still interesting enough to watch.
The primary problem I have with playing this game is that it's not translated. My Japanese is obtained entirely from watching anime and what horrible grades in Chinese I managed to get, which helps slightly in kanji recognition, but hardly matters when the characters start ranting in a torrent of complicated kanji. Therefore, I've really only been clicking through the text boxes and listening to the characters speak, in an effort to glean some understanding of the situations based on context.
I haven't finished (or am even near finishing) the game yet, and so I can't really give a proper full review. (Not that I can do that anyway.) Still, thus far I haven't gotten to even one outright H scene (just the way I like it), and there were a few bits which made me chuckle, if only because it's the sort of humour I'm partial to.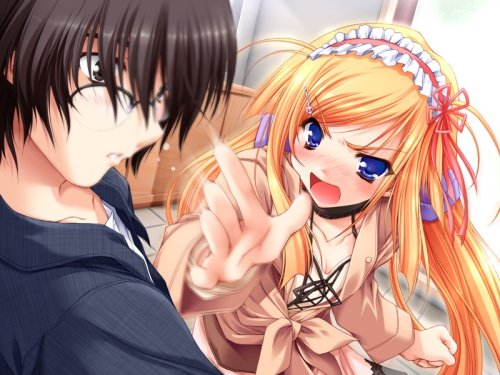 As far as I can tell, the main character (unvoiced, even though every other character, male or female, is) is one Shizuma Asakura (possibly Hasakura? I don't recognize the kanji, sadly), who transferred (as usual) to a new school, and thus gets to live with his two twin childhood friends, Yukina and Makina Tomoe (and their mother Yuria). The world of Nursery Rhyme is one with magic and "elfans" (or perhaps "elfins"), who are pretty much people with interesting ears, either of the pointy sort or the animal sort. I think elfans are generally more skilled in magic than humans, but I could be wrong.
Shizuma is a typical male harem lead who's one step above the usually pathetic types, in that he's socially well-adjusted, but he's not the snarky or sarcastic sort. He's just a Nice Guy. I haven't seen any unique or obvious traits, but the more subtle hints may be escaping me.
In any case, I've not seen any overarching plot thus far (apart from the obvious "score with a girl"), but then I'm not really understanding much of the text anyway. I'm in it for the pretty pictures.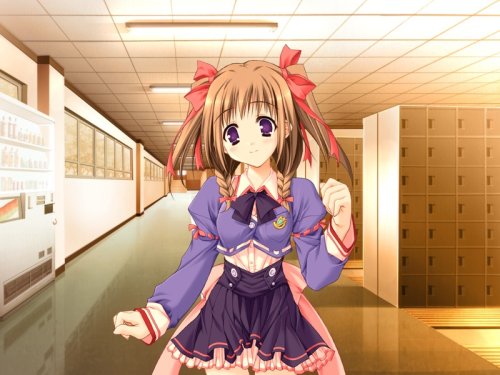 Makina Tomoe is probably, based on the fact that she's the first named girl in the OP animation and the first actual on-screen character you meet, the "true path" or a close equivalent. She's in the (soccer) football club, I think perhaps as captain or something, and she's all sporty and active and energetic.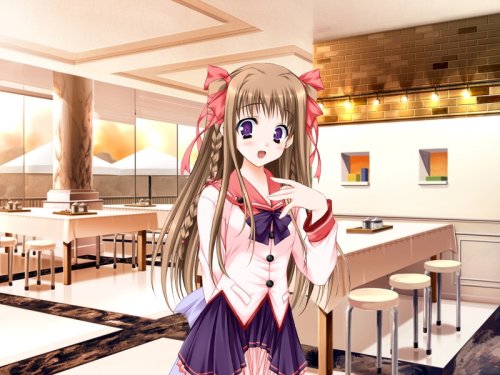 Yukina Tomoe is twin the elder, and she's the quieter, loving oneechan type. Makina seems really scared of her when she gets angry, which is always plus points for extra moe-ness. So far she's been reassuringly normal, so I don't really have a lot to say about her other than that she's probably a nice girl.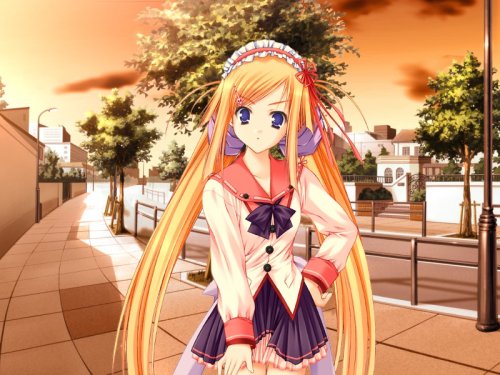 Tita Flawless Brandt (don't look at me, I didn't come up with the names) lives next door to the other characters, and her bedroom window is in full view of Shizuma's. She's the tsundere ojou-sama type, which means that she acts rich and bitchy (but not really arrogant to anyone other than Shizuma). She also causes the most problems with understanding what she says, since she likes to start ranting in kanji and "desu wa" and suchlike.
Rin Lim Venus doesn't seem to like men. She's a college student (I think), and she gets all flustered and scared when Shizuma even talks to her. I'm not sure if this is because she mistook Shizuma for a burglar when they first met, or because she's really frightened of men in general, but either way, it's kind of cutely amusing. If I had to choose right now, I think I'll try going Rin's route first, and then Yukina's.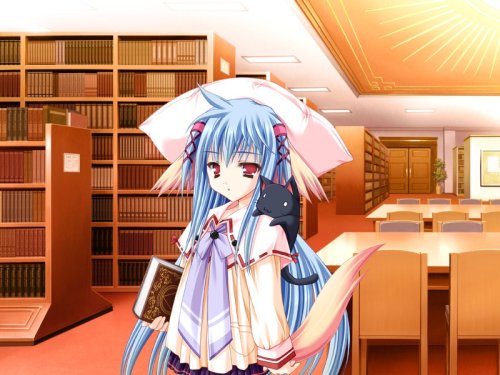 Krile Shikishima is the requisite loli. Her name is actually written "Kururu", but I suppose "Krile" is an acceptable transliteration according to the game. She doesn't speak much, and fits the archetype of the quiet, strange, genius loli, a bit like a nicer, more fictional view of an autistic savant. She's extremely smart and talented (so we are told), and I think she either skipped several grades, or she "only looks young". That cat on her shoulder is actually a doll named Azu (short for Asmodeus, perhaps?), sentient and speaking. It sounds, or at least tries to sound, like a tough gangster, which is a bit difficult when it does what you'd expect from an anime cat speaking (all "nya" and such), and when Krile expressionlessly smacks it around when it inevitably says something over the line.
As mentioned, I haven't a clue what's happening most of the time. I think, based on the utter lack of an obvious plot thus far, that there's no real objective other than "live a school days life and get a girlfriend". Which isn't a bad thing, and would probably be a refreshing change of pace from all the fantastical situations. Every girl may well have some backstory that will get explored in their routes, though; Krile has the most obvious possible plot hooks, but I can think up of something for Tita or Yukina as well.
Also, as a note to myself, Yukina's and Makina's birthday is on the 9th of December. I'm not sure if this is going to be significant in any way, but Shizuma keeps saying that he's definitely not going to forget it, which makes me suspect that there'll be a quiz or something later.